How to Transfer Contacts from Samsung Galaxy to iPhone
Broke your Samsung Galaxy screen and switched to a new iPhone? Does that mean that you have to rebuild your contacts data again? Here, as long as you have your Galaxy hardware unharmed, you can easily transfer your contacts or even other contents including text messages, photos, music, and videos to your iPhone. Mobile Transfer will turn this complex process into simple clicks for you.
Mobile Transfer
helps to build connections between your phones. No matter it is Android, iPhone, Symbian, or HTC, Samsung, Motorola, Sony or other Android phones, Mobile Transfer all works in 100% compatibility. The only things you need to do is to connect both your mobiles to computer, and several clicks. How hard can it be?
Download Mobile Transfer of the right version for your computer now, and fetch two USB cables.
Simply steps to transfer contacts from Samsung Galax to iPhone
For Preparation: Install Mobile Transfer on your computer and start the program. You will see several modes of functions, click the "Phone to Phone Transfer" section.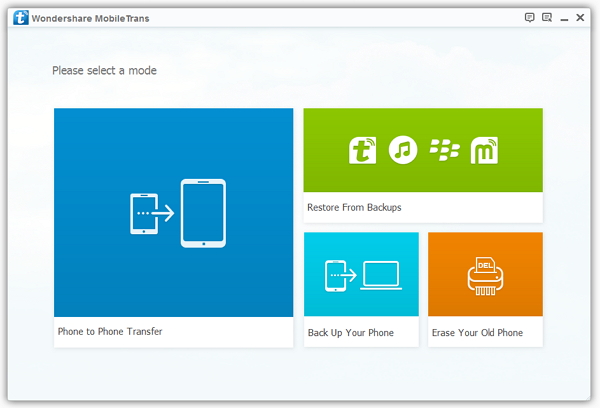 Step 1: Connect your Samsung Galaxy and iPhone to computer
As instructed on the windows, connect both your phones to computer using two USB cables. On the interface, there are "Contents" column right in the middle; aside are "Source" and "Destination" phones. Both your phones will be detected soon and shown on the "Source" and "Destination" side.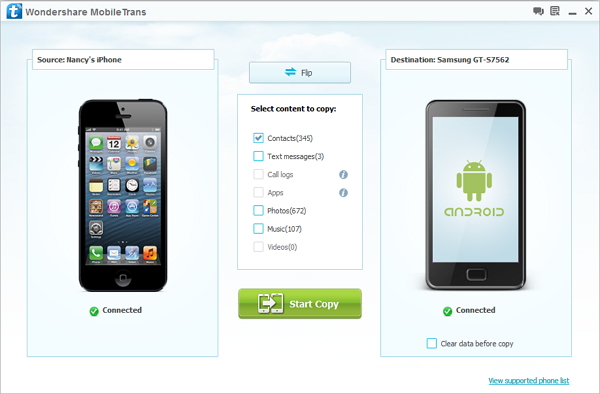 Step 2: Transfer contacts from Samsung Galaxy to iPhone
If want to transfer contacts from Samsung Galaxy to iPhone, make sure that your Samsung Galaxy is on the "Source" side, and your iPhone on the "Destination". By click the "Flip" button, you can change each phone's position.
And if you only need to sync contacts from Samsung Galaxy to iPhone, mark "Contacts" in the "Contents" column only, then click "Start Copy" to transfer.
Note: If you want to clear all data on "Destination" phone before copy, mark the "Clear data before copy" selection on the "Destination" side. Reconfirm your action for this will wipe out all your "Destination" phone's data.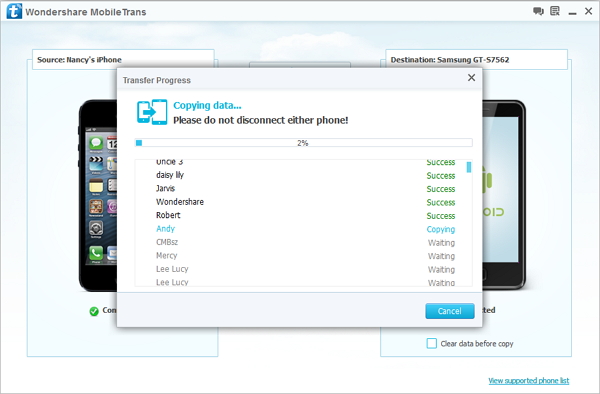 The process won't even take minutes, and in a short time you are able to see those familiar contacts retrieved on your iPhone. To save your trouble rebuilding old contacts of your previous phone, download Mobile Transfer to have a try.
comments powered by