How to Transfer Data from Phone to Phone
Some people would love to try out new phones of a total new operating system. And meanwhile, mobile OS is developing quickly that we are prone to switch to those more functional ones. For recent years, the popularity of iOS, the uprising of Android, many phones based on these mobile platform have taken the market, iPhone, Samsung, Sony, HTC and so on. Then, how to transfer your old phone data to a new one?
Mobile Transfer
gives you the easiest solution. No matter what phone brands you use, whether it's Android, iOS or Symbian or Blackberry, Mobile Transfer works for all, transfers it all. Contacts, videos, songs, images, SMS, call logs and apps only takes several clicks to be transferred to the other phone.
Download Mobile Transfer and try it out for a soothing experience.
For Preparation: If you transfer data from/to iOS devices, iTunes pre-installation is required because certain iTunes services are needed to access your iOS device.
Steps On Transfer Data from Phone to Phone
Step 1. Connect both your devices to computer via USB
Launch the Mobile Transfer app on computer, then you will get the interface as below. You need to select a transfer mode, click "Phone to Phone Transfer" to continue. Using two USB cables, connect your devices to computer at the same time.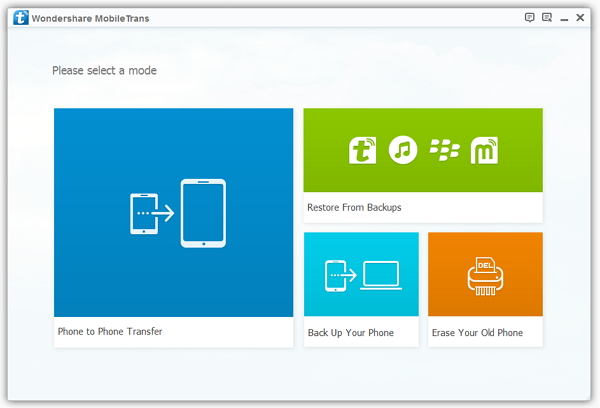 Step 2. Transfer data from phone to phone
The program will automatically detect your devices and show them on the interface. There are "Source" and "Destination" on each side. In the middle is the "Content" column containing various data categories, data of the "Source" phone will transfer to the "Destination" phone By clicking "Flip" will switch position.
Select contents you like on the "Content" column by marking them, then click "Start Copy" to start transfer. Click "OK" when it is done.
Now you have your familiar data copied to your new phone. Just simple steps, isn't it? Download Mobile Transfer now to make data transfer a cinch.
comments powered by