How to Transfer Contacts from Samsung to iPhone
It's hard to really tell which device is better, Android Samsung or iPhone. Each has their charms to people seeking for a nice smart phone. It would not surprise me if someone change their current iPhone to Samsung, or from Samsung to iPhone. But either way, you definitely don't want to start with a new but unfamiliar mobile without all the contacts you have accumulated years for communication. If you feel like to, or already have switched your iPhone over to Samsung, and not interested in the "Export Contacts and Copy this and there" process, here we offer you a solution – Mobile Transfer.
Mobile Transfer is a tool purposed to make Contacts (or other contents) Transfer from Android Samsung to iPhone easy. Not only Contacts, but also text messages, call logs, photos, music and videos can be synced from Android to iPhone. With several clicks, even without your knowing, contacts will be synced to iPhone – That's exactly the ultimate user-friendly software for your solution.
Having an iPhone awaiting to sync contacts with Samsung, yet still wondering how? Download Mobile Transfer and follow the instruction below for solution.
How to Transfer Samsung Contacts to iPhone
Step 1. Install and run the program
Install and run the Mobile Transfer program after downloading it on your computer. You will get the interface as below. Select "Phone to Phone Transfer" on the interface.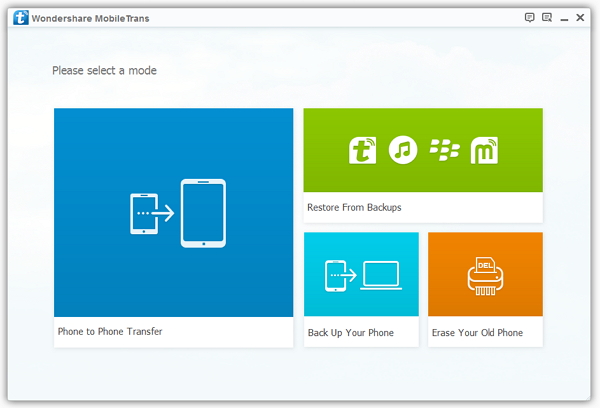 Step 2. Connect both your mobiles to computer via USB for preparation
After connection to PC or Mac with USB, both your mobiles' info will appear on the window. There are "Source" phone and "Destination" phone, a "Flip" button to switch phone position, and a content column with different types of data.
To transfer contacts from Samsung to iPhone, mark "Contacts" only in the content column; and make sure that your Samsung is on the left "Source" side, if not, click "Flip" to change position.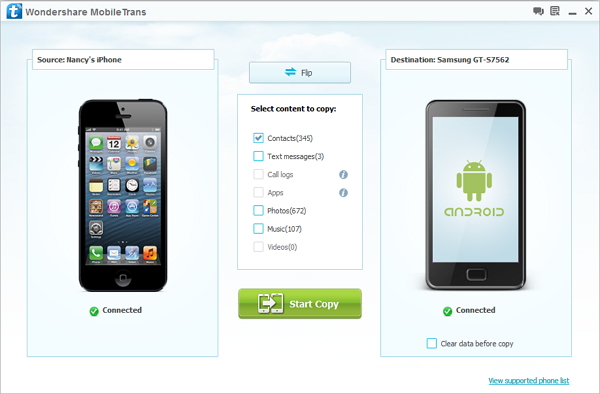 Note: The selection on the lower part of the "Source" phone side is used to clear data on the "Source" phone before copy. Mark it only when necessary.
Step 3. Transfer contacts from Samsung to iPhone
When everything is confirmed, click "Start Copy" button. The software will automatically sync contacts from Samsung to iPhone. In seconds, the progress bar will dash to 100%, then simply click "OK" to finish.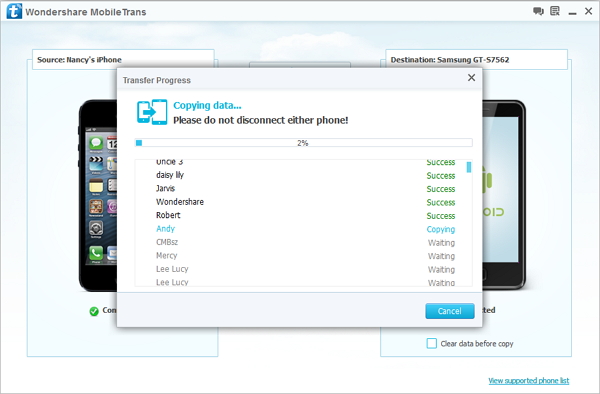 Now check your iPhone contacts, all those familiar contact info are back. Of course, besides contacts, Phone Transfer allows you to sync contents such as SMS, call log, photos, music, and videos. Don't forget to ask it for help when such problems of syncing bothers you. Download Mobile Transfer from below and make things easier.
comments powered by