How to Transfer Data Between Android, iPhone and Symbian
Nowadays, the three most well-known mobile systems are Android, iOS and Symbian. Due to such diversity, a problem emerges to mobile phone users all around the world. That is, how to transfer Data between Android, iPhone iOS and Symbian, these three different platforms. When you switch your phone, or when you want to share specific content of data to your friends or family, what's the best way to transfer data between phones? Here I highly recommend you Mobile Transfer.
Mobile Transfer
builds connections between different mobile platforms, enables you to sync data between devices without hassle, and turns the transfer process into a one-click step. Data such as contacts, text messages, videos, photos, audios, and other files are supported to be transferred.
The Key Feature of Mobile Transfer Software:
1. Simple and effective solution for transferring content between Symbian, Android, and iPhone.
2. One-Click to backup any device music, photo, video, text messages, contacts, call history, calendars, app data to your computer.
3. Transfer saved backups to your new device. Supports backups created by other mobile managers, such as iTunes, iCloud, BlackBerry, Mobile and others.
4. Comprehensive contact copy, including job title, email addresses, company name, etc.
5. Works with more then 6,000+ phones including Android, Symbian (Nokia), and all models of iPhones, including the newest iPhone X, iPhone 8.
6. Transfers content between phones on different networks. AT&T, Verizon, Sprint, T-Mobile.
7. Zero quality loss & risk-free: everything you transfer is 100% same as the original and can be only read by yourself.
Download Mobile Transfer and follow the simple tutorial below.
Steps to Transfer Data Between iPhone Android and Symbian
For Preparation: Pre-install iTunes on your computer if you don't have it installed before, because Mobile Transfer require iTunes services to access your iPhone.
Install Mobile Transfer on your computer and start the program. Select "Phone to Phone Transfer" mode.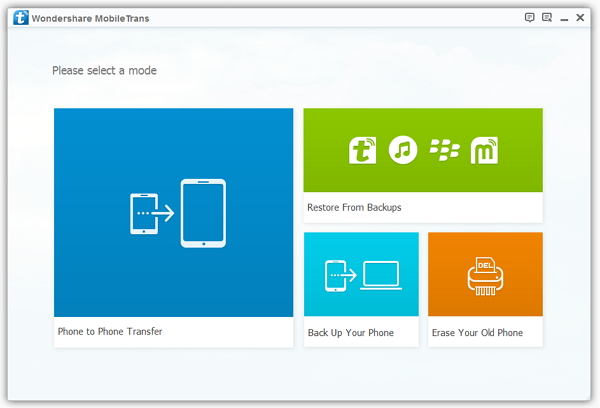 Step 1. Connect your iPhone and Android to computer
Using two USB cables, connect both devices to computer. The software will soon detect your devices and display them on the interface. There are "Source" and "Destination" phones on each side; in the middle is the "Contents" column.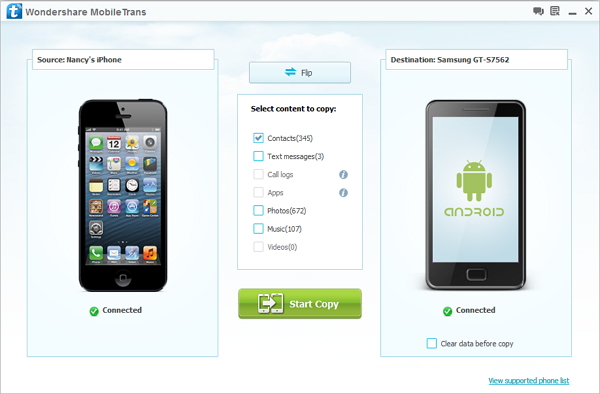 Step 2. Transfer data between iPhone/Android/Symbian
If you want to transfer text messages from iPhone to Android, your iPhone should be shown on the "Source" side. You can switch position by clicking the "Flip" button. And mark "Text messages", "Contacts", "Music", "Photos", "Call History" or ther files type, then click "Start Copy" to transfer selected data.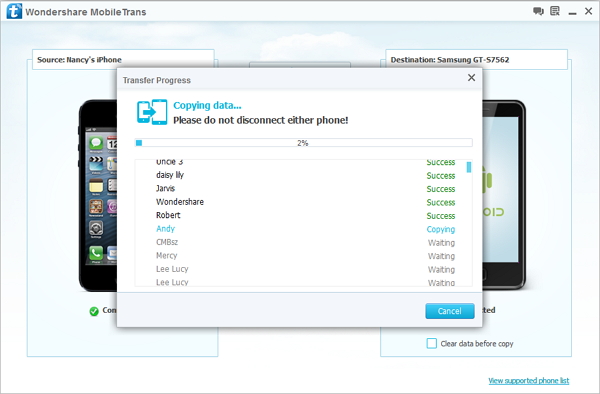 Note: The "Clear data before copy" option is used to clear respective data before copying selected content. Mark only when necessary.
To transfer other contents, the process is similar.
Is it so simple to transfer your data? Why not download it to have a try right now!
comments powered by